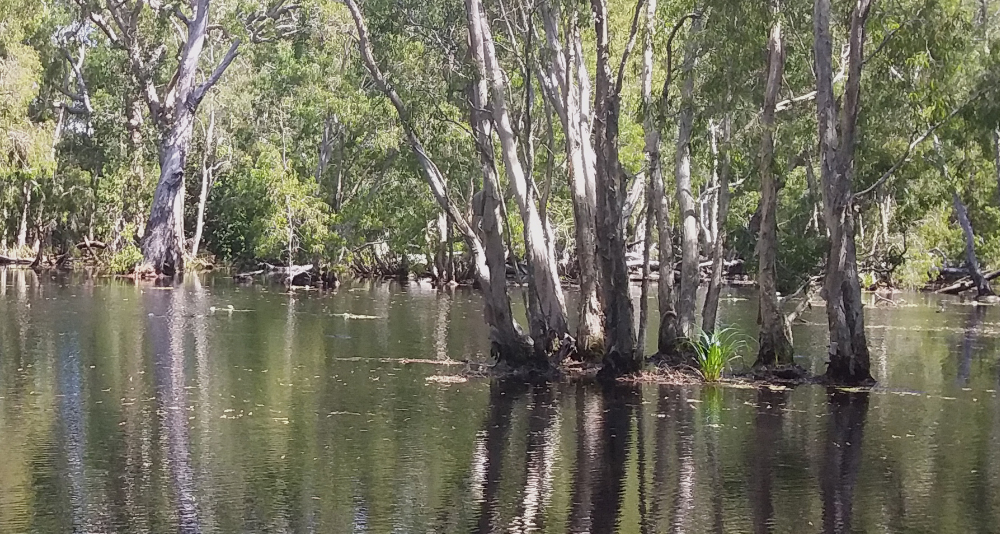 Traditional Peoples
Free, prior, and informed consent what does that mean?
Free– no coercion, bullying, or bribery.
Prior– respectful and timely, appreciating cultural protocols that decisions are made by the collective and that takes time.
Informed Consent– means all information must be fully disclosed to make an informed decision and delivered in a open, transparent and honest manner.
Exerts from a JCU paper Moving in the Rights direction by Lea Scherl
To successfully conserve nature requires empowered stewardship by Indigenous Peoples and local communities working together. What or how much to conserve detracts from potentially more important debates about how conservation is done, by whom and with what outcomes. A key implication is that the most important factor in achieving positive conservation outcomes is not the level of restrictions or magnitude of material benefits provided to local communities, but rather recognising local social and cultural practices and capacity to make decisions. Empowered local communities can provide effective environmental stewardship.
Locally controlled conservation produces better outcomes because it fosters active and collective stewardship of the environment. Such approaches can establish a shared vision for the landscape communities inhabit and mobilise people to preserve, restore and defend it while adapting to any threats or changes.
Community cohesion, shared knowledge and values, social inclusion, effective leadership and legitimate authority are important ingredients that are often disrupted through processes of globalisation, modernisation or insecurity, and can take many years to reestablish. Additionally, factors beyond the local community can greatly impede local stewardship, such as laws and policies that discriminate against local customs and systems in favour of commercial activities.
Effective conservation needs Indigenous Peoples and local communities Our findings suggest that equitable conservation, which empowers and supports the environmental stewardship of Indigenous Peoples and local communities represents the primary pathway to effective long-term conservation of biodiversity, particularly when upheld in wider law and policy.
Whether the approach is described as a 'Nature-Based Solution', carbon or biodiversity offsetting, restoration, rewilding, payments for ecosystem services, protected areas, private conservancies or some other form, the most important questions are not how much will be protected or how much money is available, but how it aims to conserve: whether through excluding Indigenous Peoples and local communities or through recognising their rights, roles in decision making, and potential stewardship. Approaches that affirm local rights are most likely to be successful in the long-term, while continuing those exclusive approaches that have performed poorly for people and nature are no longer justifiable.
Supporting local communities' rights of access, to influence decisions that profoundly affect their lives and cultures and to act as stewards of the environment should not be viewed as a radical approach. On the contrary, our study communicates an optimistic message for people and the planet: Conservation can become more effective through an increased focus on governance quality, and on fostering solutions that reinforce the roles, capacities and rights of Indigenous Peoples and local communities.
This is capable of ushering in a new era of collaboration with, support for, and stewardship by Indigenous Peoples and local communities that enhances prospects for both environmental conservation and human wellbeing. This work was supported by the International Union for the Conservation of Nature Commission on Environmental, Economic and Social Policy (IUCN CEESP) and through the 'Just Conservation' project funded by the Centre for the Synthesis and Analysis of Biodiversity (CESAB) of the French Foundation for Research on Biodiversity (FRB), www.fondationbiodiversite.fr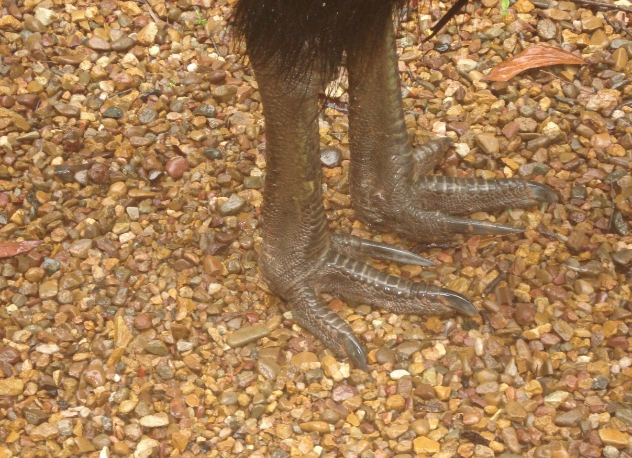 Traditional Owner Engagement
Guardians of Wet Tropics believes local Traditional Owners must be in involved at the start of any conversations or gatherings with neighbouring landholders and in the design and delivery of projects. By operating with open transparent communication, we hope to be led in the planning stages of any projects on the ground by Traditional Owners in their traditional country.
Supporting and actively promoting any opportunities for the continuation of connecting to country and the passing on of their Traditional Ecological Knowledge and Cultural Protocol connection to their country for their next generation and the engagement with the wider community.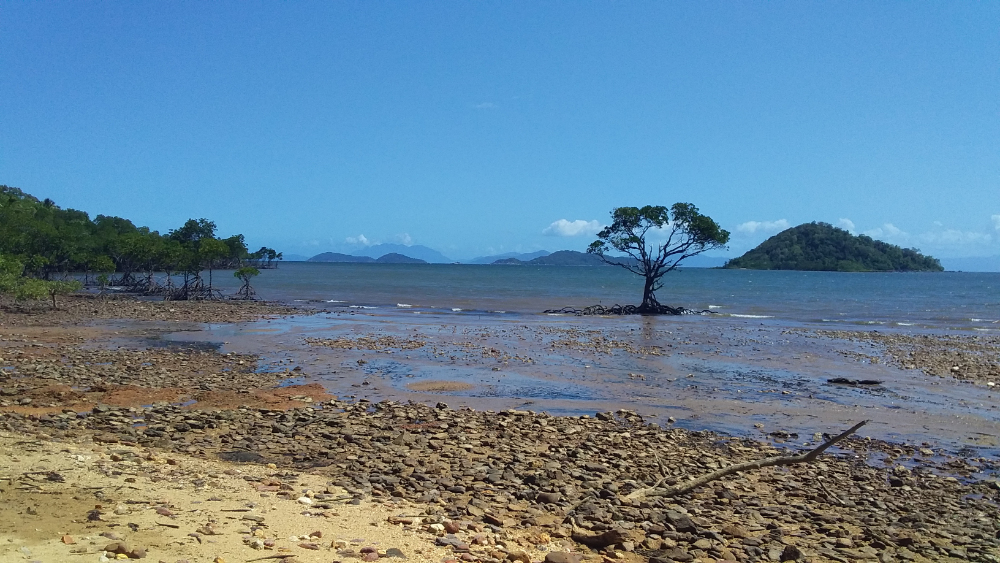 Traditional Owners have a wealth of knowledge that for too long has been ignored. Healing the country and listening to the wisdom of the 'original guardians' is crucial at this time. The choice of species for revegetation on traditional country must be considered in the planning and delivery of projects to ensure that their bush tucker plants, native flowering and fruiting shrubs are regenerated, enhanced and increased for future generations.
All projects developed under Guardians of the Wet Tropics when possible, wish to create and offer employment and training opportunities to indigenous people and their younger generations to get them back on country, connecting to their culture and support Indigenous Land Sea Ranger Programs.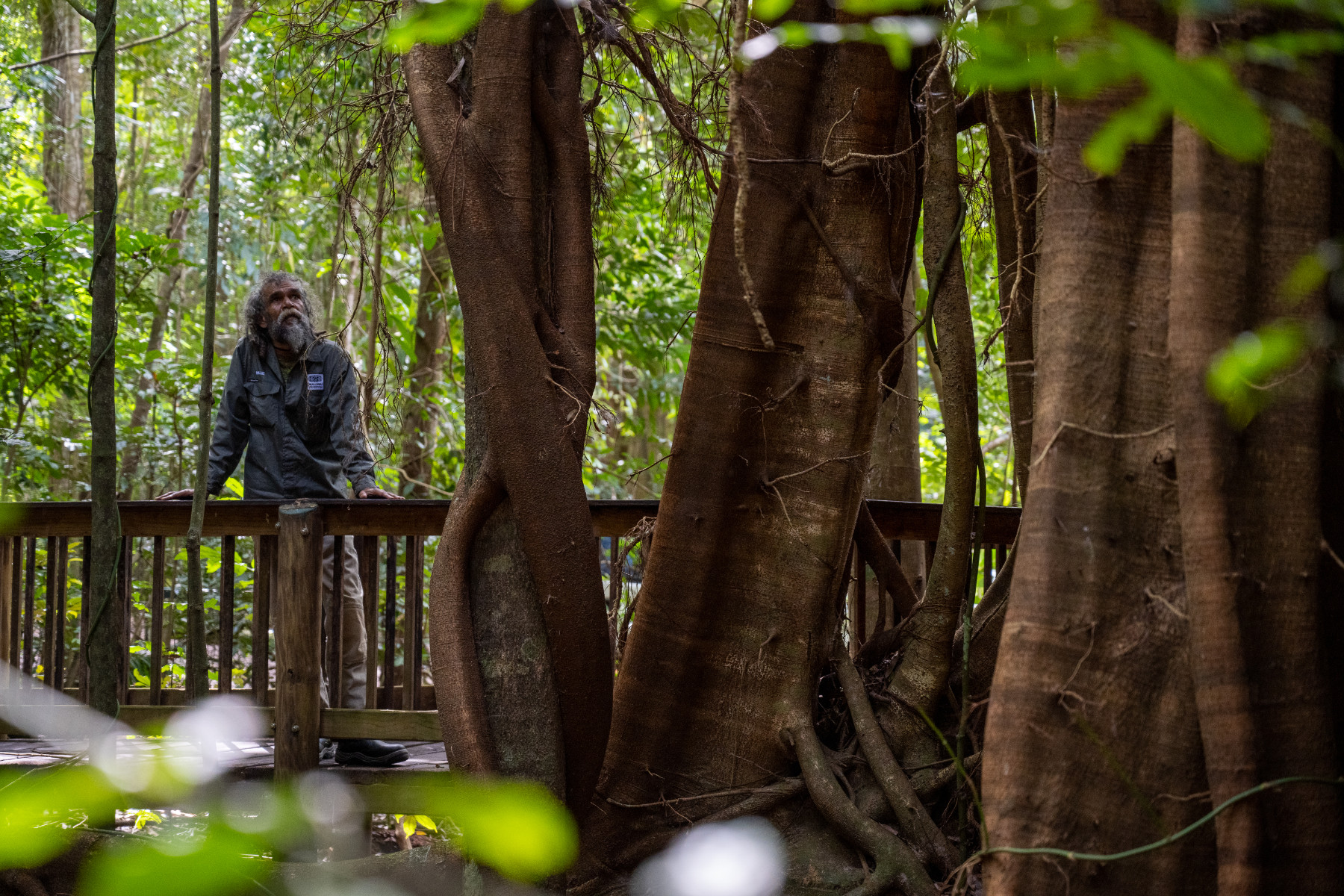 We are fully supportive and encourage more of the great work done with traditional cool burn fire practices by Indigenous Owners in joint management arrangement with DES/QPWS and local community rural fire services. We have been following 'Fire Sticks Alliance' and the work of Victor Stephenson at Kanjini and its use as a management tool to control weeds, enrichment of habitat zones for the Northern Bettong and other native wildlife, to prevent wildfires and to prevent rainforest encroachment into open woodland areas.
Through conversations with Traditional Owners/ Land Sea Rangers they say they are alarmed about illegal pig hunting in critical habitat and in protected areas. TO's have noticed impacts to some native wildlife species, including vulnerable, threatened and endangered species, of particular concern is threats to cassowary survival QPWS and DES share these concerns.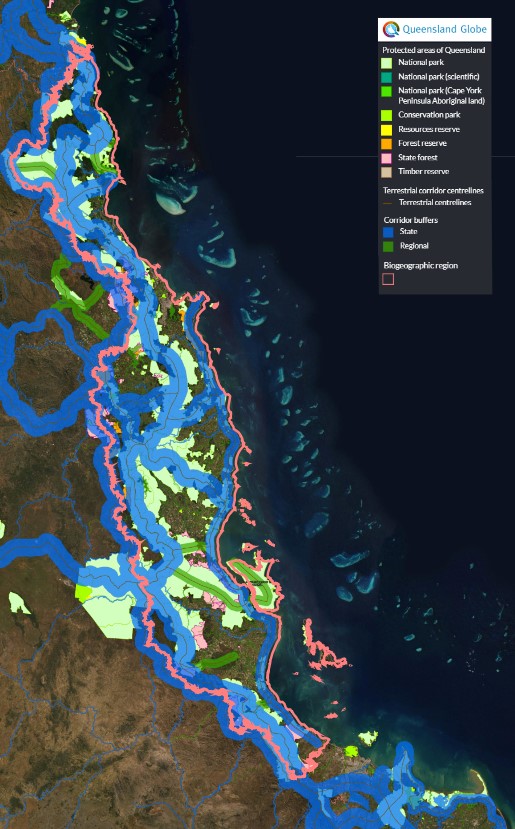 There are Statewide Biodiversity Corridors shown in blue ribbons across the map marking areas of connectivity and significant habitat. Littoral Coastal Rainforest makes up a critical part of the lowland SBC that needs urgent protections from more destructive tree clearing: Coastal grazing, developments, and urbanisation need to be carefully considered or prevented. Traditional Owners understand coastal rainforest vegetation (above the high tide mark) holds the foreshore together, preventing beach erosion and are the natural buffer zones. When these areas are cleared the coastal beach fountains collapse causing coastal erosion problems now and into the future.
Statewide Biodiversity Corridors (SBCs) continue in large areas from north to south, and from the coast to the ranges to stretch west across to the Tablelands. Within these 'blue ribbon' SBC zones running from east west, there are Littoral, Mesophyll, Notophyll, and Mabi rainforest habitat types. Littoral and Mabi rainforest are threatened cassowary habitats. Some flora species are near the point of extinction, some species are flowering at different times of the year to what is culturally recognized.
Like many Guardians, Traditional Owners have noticed they don't see certain wildlife species in certain locations anymore, with localized extinctions reported to be occurring across the region. Working with the Guardians, Traditional Owners, and our partners we are creating citizen science projects to monitor and record plant and animal species in areas that neighbor protected areas or waterways. Collecting the data of vulnerable, threatened, or endangered species such as the Cassowaries, Northern Bettongs, Tree Kangaroos, Mahogany Gliders, Platypus, Flying Foxes is recognized as an important contribution by Threaten Species Recovery Teams to positive conservation outcomes.
We endeavour to educate and increase the number of local landholders living adjoining World Heritage areas, critical habitat, fragmented pockets, corridors, or water courses within the community to follow best practice for protecting and preserving the rich biodiversity and the unique ecological values, highlighting the responsibilities of living within the Wet Tropics bioregion with a view to delivering positive outcomes for threatened species in the Wet Tropics.